Vektløs

Merino wool baselayer - Black and Blue | Men
- 100% natural material
-Super smooth and comfortable
- Made from the worlds' finest Merino Wool and Organic Bamboo
- Odor-free for up to 5 days without washing
- Superb temperature control
Product description
Performance
Thanks to its unique fabric composition and unparalleled breathability, the shirt feels like a second skin on the body and can be worn all your round. You can wear it as a top layer in warm temperatures or underneath a jacket when the weather gets cool. No need for washing after usage, we guarantee the shirt to uphold its performance, odor-free for up to five days(!) when hanging out for a couple of hours at the end of the day! No itching, no sweating, no shivering, we can assure you that!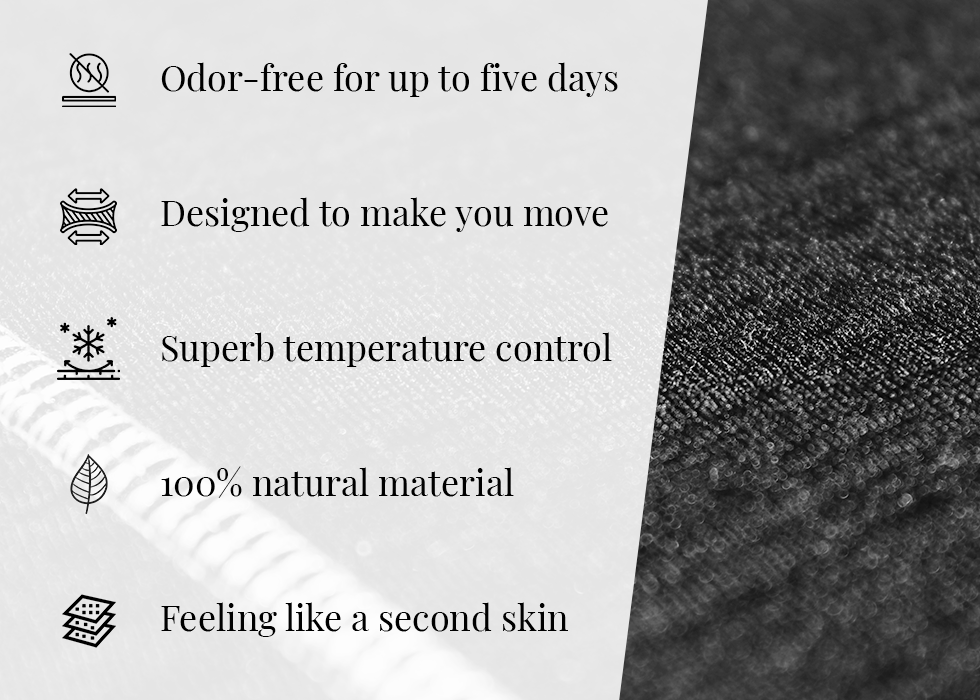 Material
Our temperature regulating and highly breathable fabric consists of 50% fine merino wool, providing unique fabric breathability and temperature regulation and 50% Organic Bamboo which gives the fabric a soft and comfortable feel to the skin, making the fabric more durable, well-fitted and quickly dry. The fabric weight is 180 gr/m2, which is the ideal thickness for all-season temperature control. Keeping you cool when standing still and warm when on the go, even when wet.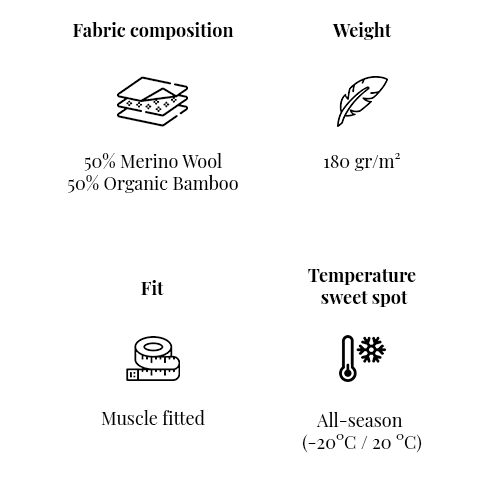 Fit
Please refer to the image below for a detailed size chart for this product.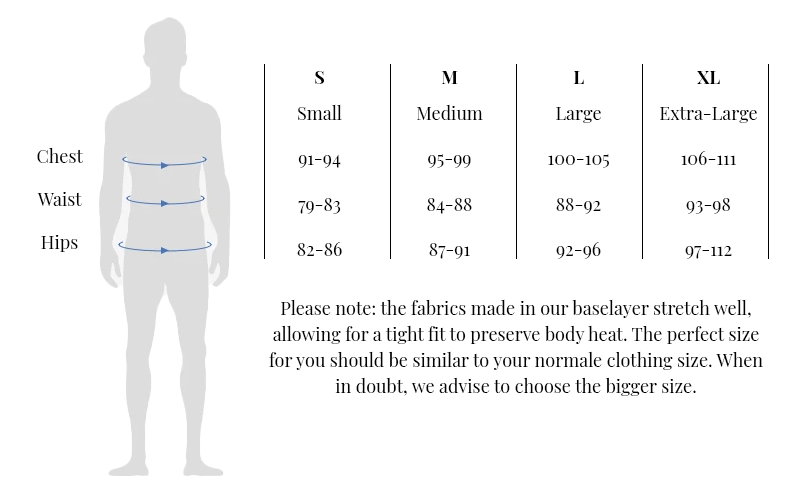 Sustainability
Our merino wool is all natural and comes from New-Zealand bred sheep living on grass, water, sunshine and rain and is completely mulesing free. In addition, our bamboo is produced as organic as can be, with both merino and bamboo being natural fabrics, allowing them to be renewable and naturally decompose in the earth's soil. Take a look at our nature section to read more on how we put sustainability at the core of Vektløs.
4.8 stars based on 10 reviews Create your own review
Most recent reviews
18-01-2021 13:16

Edwin

Super shirt! Ademt goed en is na 5 keer dragen nog steeds geur vrij!

02-12-2020 19:39

Paul

Heerlijk shirt, ideaal voor dit weer en ademt ontzettend goed.

01-12-2020 08:27

Thijs

Great shirt for outside sports!

21-11-2020 12:40

Sophie

Shirt gekocht voor mijn vriend voor tijdens het sporten bij koude temperaturen. Hij zocht al een tijdje naar een hoge kwaliteit thermoshirt, liefst gemaakt van merino wol. Nou, hij is er onwijs blij mee en het staat hem erg mooi (al zeg ik het zelf)! :-)

21-11-2020 11:52

Hidde

Lekker shirt, top voor koude avonden op het hockeyveld.

16-11-2020 20:42

Richard

I mainly use this as a base layer for skiing and it breathes really well. It's also a nice shirt for an evening run or as a gym shirt. Worth every penny, better than expected!

16-11-2020 20:32

Louise

Het shirt gekocht voor mijn broer. De stof voelt (na een keer wassen) zacht aan op de huid en ademt goed tijdens het sporten. Erg tevreden met de aankoop.

15-11-2020 19:07

Stefan

Materiaal is top. Reguleert lichaamswarmte goed, ademt en voelt heel natuurlijk aan. Aanrader!

22-10-2020 13:10

Fons

Great baselayers for cold days out in the mountains

18-10-2020 20:40

Robbert

Love these baselayers! The fit is really good and the shirt does not smell at all after several days of wearing it. Ideal for ski-touring or a multi day hike. Definetely recommend it.